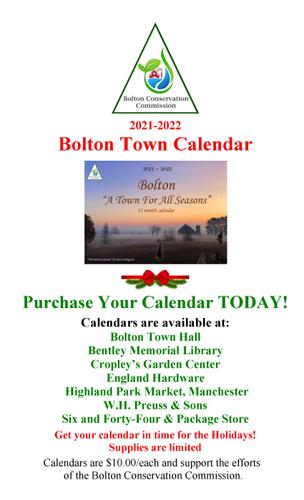 Bolton: A Town for All Seasons Calendar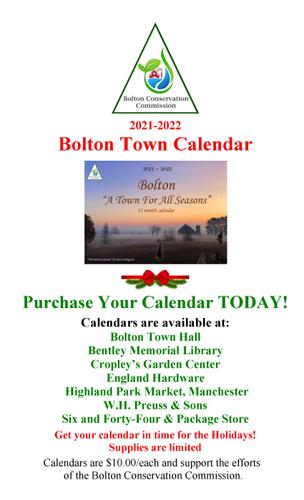 The Conservation Commission has published its eleventh annual 2022 town-wide calendar titled "Bolton: A Town for All Seasons".
The calendar offers many illustrative photos of Bolton landmarks including the Heritage Farm, the Nathan Hale Greenway, and the Hop River Trail. Every month is a snapshot in time.
The calendar dates throughout the year include many holidays, conservation commission events and meetings, land-use board meetings, Town meetings, full moons, celestial events such as meteor showers and eclipses, scrap metal pick-up week, Bolton lakes regatta, kids to parks day, and much more!
Calendars are available for a $10.00 donation at the Bolton Town Hall, Bentley Memorial Library, Cropley's Garden Center, England Hardware, Highland Park Market in Manchester, W.H. Preuss & Sons, and the Six and Forty-Four & Package Store while supplies last.
The BCC meets on the first Monday of every month at 7:00 p.m. Our meetings are open to the public and all are welcome. We are currently looking for Trail maintenance work party volunteers. The BCC maintains the trails in Freja, Herrick and Bolton Notch State Park. Interested volunteers can contact Chair Rod Parlee at
tobcc@aol.com
or
860-649-8066
x 6110. If calling, please leave a message.
Agendas & Minutes
| Date | Agenda | Minutes | Recordings |
| --- | --- | --- | --- |
| January 4, 2021 | | | |
| February 1, 2021 | | | |
| March 1, 2021 | | | |
| April 5, 2021 | | | |
| May 3, 2021 | | | |
| May 13, 2021 Special Meeting | | | |
| June 7, 2021 | | | |
| July 8, 2021 | | | |
| August 2, 2021 | Cancelled | | |
| September 2, 2021 | Agenda | Minutes | Audio |
| October 4, 2021 | Agenda | Minutes | Audio |
| November 4, 2021 | Agenda | Minutes | Audio |
| December 6, 2021 | Agenda | Minutes | Audio |
| Date | Agenda | Minutes | Recordings |
| --- | --- | --- | --- |
| January 6, 2020 | | | |
| February 3, 2020 | | | |
| March 2, 2020 | | | |
| April 6, 2020 | | | |
| May 4, 2020 | | | |
| May 18, 2020 Special Meeting | | | |
| June 1, 2020 | | | |
| July 6, 2020 | | | |
| August 3, 2020 | | | |
| September 3, 2020 | | | |
| October 5, 2020 | | | |
| November 5, 2020 | | | |
| December 7, 2020 | | | |
| December 14, 2020 | | | |
| Date | Agenda | Minutes |
| --- | --- | --- |
| January 7, 2019 | | |
| February 4, 2019 | | |
| February 11, 2019 Special Meeting | | |
| March 4, 2019 | | |
| April 1, 2019 | | |
| May 6, 2019 | | |
| May 16, 2019 Special Meeting | | |
| June 3, 2019 | | Cancelled |
| June 10, 2019 Special Meeting | | |
| July 1, 2019 | | |
| August 5, 2019 | | |
| September 9, 2019 | | |
| October 7, 2019 | | |
| November 7, 2019 | | |
| December 2, 2019 | | Rescheduled |
| December 5, 2019 | | |
| Date | Agenda | Minutes |
| --- | --- | --- |
| January 8, 2018 | | |
| February 5, 2018 | | |
| March 5, 2018 | Cancelled | |
| March 19, 2018 | Cancelled | |
| April 2, 2018 | | |
| May 7, 2018 | | |
| May 17, 2018 Special Meeting | | |
| June 4, 2018 | | |
| July 9, 2018 | | |
| August 13, 2018 | | |
| September 10, 2018 | | |
| October 1, 2018 | | |
| November 8, 2018 | | |
| December 3, 2018 | | |
| Date | Agenda | Minutes |
| --- | --- | --- |
| January 5th | | |
| February 6th | | |
| March 6th | | |
| April 3rd | | |
| May 1st | | |
| May 18th (Special Meeting) | | |
| June 5th | Cancelled | |
| July 10th | | |
| August 14th | | |
| September 7th | | |
| October 2nd | | |
| November 2nd | | |
| December 4th | | |
Members
Brenda V. Cataldo

Term Expires: July 1, 2024

Rodney E. Parlee - Chair

Term Expires: July 1, 2024

C. Peter Van Dine - Vice Chair

Term Expires: July 1, 2022

Alan Bicknell

Term Expires: July 1, 2023

Jean Laughman

Term Expires: July 1, 2023
Alternates
Matthew Rivers - Alternate

Term Expires: July 1, 2022
Photo Contest Winners
2020-2021 Photo Contest Winners
2018-2019 Photo Contest Winners
2017-2018 Photo Contest Winners