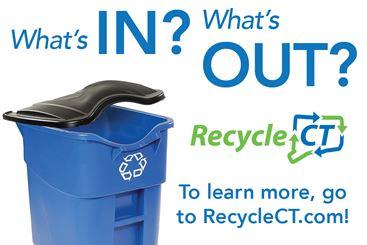 Click above for What's In? What's Out?
Trash and Recycle cans should be placed out the night before or by 6:00 a.m. the day of pick up.
A single, 95 gallon trash cart is distributed to all residence throughout Bolton once a certificate of occupancy has been obtained for the home. A smaller, 65 gallon trash cart can be requested and exchanged for any household looking to have a smaller cart instead. Additional trash carts may be purchased through the Town Selectmen's Office in Town Hall. Each single family household is allowed one recycle cart only.
BEGINNING APRIL 11, 2022, ALL RECYCLE/TRANSFER STATION PERMIT PUNCH TICKETS PURCHASED WILL ONLY BE GOOD FOR ONE SEASON (APRIL THROUGH NOVEMBER). PUNCH TICKETS ARE $24.
ANY UNUSED PUNCHES REMAINING ON YOUR PERMIT TICKET WILL EXPIRE EACH NOVEMBER (AFTER THE LAST OPEN DATE AT THE RECYCLE/TRANSFER STATION) AND NEW PERMIT TICKET(S) WILL NEED TO BE PURCHASED EACH YEAR.
ANY PREVIOUSLY PURCHASED PERMIT TICKETS (PURCHASED PRIOR TO APRIL 11, 2022) THAT HAVE PUNCHES REMAINING WILL BE HONORED UNTIL THEIR CURRENT EXPIRATION DATE.
Curbside Pick-Up
Put your dump cart out the night before your collection day or before 6 a.m. on the collection day
Separate you trash and recycling into their respective carts
DO NOT overload the dump cart
DO NOT dump hot ashes or flammable items in your cart
DO NOT dump grass clippings, brush or sand in your cart
DO NOT use your cart for paint or other hazardous liquids
IMPORTANT THINGS TO REMEMBER
Automotive Batteries & Used Motor Oil
Please place the outside of the blue cart at least 2 feet away in plain site for pick up. DO NOT place in container.
Oversized Items & Metal Drop Off
These items MUST have a numbered sticker attached to it which can be purchased at the Selectmen's office for $15 each (non-refundable). This would include such items as a couch, love seat, chairs, carpeting (maximum 4' sections), rolled tied, not to exceed 1 1/2 feet in diameter, and windows of wood frames (glass must be broken out and not to be more than 4 feet in any direction). Pick up will occur during the months of February, April, June, August, October and December.
A Guide to Recycling (What's In/What's Out)
Connecticut now has a universal list of what belongs in your recycling bin and what doesn't. All items should be empty, rinsed, clean and open. Do not shred, box, bag or bundle. To learn more, go to RecycleCT.com
WHAT'S IN
Cardboard & boxboard
Food & beverage cartons
Junk mail
Magazines & newspaper inserts
Newsprint
Office paper
Pizza boxes
Beverage bottles & jars
Food bottles & jars
Aerosol containers (food-grade only)
Aluminum foil
Cans & bottles
Foil containers
Metal lids from cans & bottles
Plastic bottles (with or without caps attached)
Plastic containers, tubs & lids
Plastic one-use cups (no lids, no straws)
WHAT'S OUT
Gift wrap & gift bags
Ice cream containers
Paper Cups (hot & cold)
Shredded paper
Take-out food containers Tissue paper
Ceramic mugs & plates Drinking glasses
Aerosol containers (deodorizers, cleaners, pesticides, etc.)
Foil tops from yogurt containers
Paint cans
Pots & pans
Small pieces of scrap metal
Spiral wound containers
Loose bottle caps
Plastic bags & wrap
Plastic plates, bowls & utensils
Prescription bottles
Single-use coffee containers
Styrofoam cups, containers
& packaging peanuts Water filters
Padded Envelopes/Bubble Envelopes
Residential Recycling/Transfer Center (Tickets and Information)
The facility is only for use by Bolton residents and is for materials generated by residential activities. Waste generated from commercial, business or industry activities is not allowed.
A resident non-transferable ticket is required for access to the facility and may be purchased online at
https://boltonct.viewpointcloud.com/
. The ticket is $24.00, and depending on use, is valid for a maximum of 4 years. The size of the load determines usage. The attendant at the center will record the number of punches left on your ticket after each visit, one punch is equal to a $6.00 fee. When (4) punches have been recorded, the permit is considered to be expired.
SCRAP METAL
- Steel, iron, aluminum and major appliances. *See Scrap Metal pick-up below
DEMOLITION
– Construction, demolition and land clearing debris. Includes wood, brick, masonry, or other materials associated with small home improvement projects.
$6 for up to ¼ cubic yard of waste (about one car trunk load)
$12 for up to ¼ to ½ cubic yard of waste (about one compact pickup truck load)
$24 for ½ to 1 cubic yard of waste (about one full size pickup truck load)
$24 for one large appliance such as a washer or refrigerator
The attendant at the Recycling Center will record up to four punches for each ticket with one punch equaling a $6.00 of fee expended.
TIRES
– Passenger and small truck tires on or off the rim. A total of eight tires per household per year. Fee is $6 for every two tires.
GRASS CLIPPINGS AND LEAVES
– Must be free of twigs, branches and other foreign objects. May be disposed of loose or in biodegradable paper leaf bags (30 gallon). Fee is $6 for every five bags brought to the center on the same day. No fee amount will be deducted for under five bags brought on a given Saturday.
MATTRESSES WILL BE ACCEPTED
– at no charge (must be clean, dry and NO BED BUGS)
ELECTRONICS WILL BE ACCEPTED
at no charge
WASTE OIL AND ANTIFREEZE WILL BE ACCEPTED
at no charge – Must be transferred into a large holding container by the resident.
CARDBOARD WILL NOT BE ACCEPTED AT THE FACILITY
Bulky/Oversize Item Pickup
BULK ITEM PICKUP - $15.00 sticker can be purchased at Town Hall. Pick up is every other month (February through December) and only 1 item per household can be placed out every other month.

February 27th
April 24th
June 26th
August 28th
October 23rd
December 26th
SCRAP METAL PICKUP is FREE and happens the first full week of May and October. Items should be placed at the end of your driveway for pickup that week. *All doors must be removed.

May 1 - 5, 2023
October 2 - 6, 2023
2023 Recycling Collection Schedule
2023 Residential Recycling Center/Transfer Station Schedule
2023 Bulky/Over-sized Item and Scrap Metal Pickup Schedule
2023 Mid-Neroc Hazardous Waste Disposal Schedule
How do I dispose of…
Residential Recycling/Transfer Center Schedule – 2023
Beginning April 11, 2022, all recycle/transfer station permit punch tickets purchased will only be good for one season (April through November).
Any unused punches remaining on your permit ticket will expire each November (after the last open date at the recycle/transfer station) and new permit ticket(s) will need to be purchased each year.
Any previously purchased permit tickets (purchased prior to April 11, 2022) that have punches remaining will be honored until their current expiration date.
Click here to Purchase Punch Ticket Online

Additional Ticketing Instructions
The Residential Recycling Center, located next to the Public Works Facility off Notch Road, will reopen in April and stay open until November on the following Saturdays from 8 a.m. to 12 p.m.

April 1 and 15
May 6 and 20
June 3 and 17
July 1 and 15
August 5 and 19
September 9 and 16
October 14 and 21
November 4 and 18